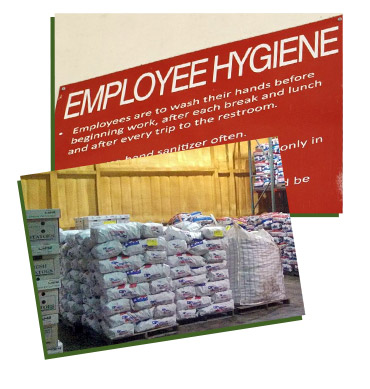 Food Safety
Down to the last spud!
Food Safety isn't a chore, it's a mindset. We employ continuous and multiple safeguards throughout our facilities to safeguard our products effectively and implement best practices to accomplish this. Our Director of Food Safety continually conducts audits of practices and procedures throughout the day in all aspects of production. From planting to production all of our employees undergo extensive food safety training and practice GAP fundamentals on hygiene and sanitation.
Pamlico Shores Produce is audited through a third party for the USDA's GAP Certification (Good Agricultural Practices) and PRIMUS GFS to achieve the maximum food safety standards in the business. We are GAP certified as a packing facility as well as for storage and transportation. Our facility maintains a superior certificate with PRIMUS Labs for our packinghouse. Through our HACCP program all of our products are source coded by date so they can be traced back to the field.
Pamlico Shores supports the Produce Traceability Initiative (PTI) and utilizes GTIN codes it in all our products. We use the latest methods to maintain the best product traceability in the industry. We are committed to being a leader in the industry in this aspect of our business. From the field all products are bar-coded and documented throughout each production step in our facility.